I'm not sure if it's all the nice weather we've been having or what, but I'm getting the home improvement itch! We didn't do anything all winter to the house and now I'm ready to get started. I've got a bedroom and laundry room calling for attention.
First on the list is the Master Bedroom. Our bedroom has been the one room in the house that I just can't figure out. I have painted, repainted , changed window treatments and changed the bedding about a gazillion times in the past 3 years and still...still, it is the one room I cannot stand to be in.
I have really been concentrating on this one room and I think I finally figured out one of the major issues I have....IT IS SO DARK!
It is a fairly small room that is filled with a lot of BIG pieces of furniture. My first thought was to downsize the furniture, but that is impossible considering that my husband can't get into any of the closets in the house (the doorways are too narrow for his wheelchair), so his only way to store his clothes is in the 2 dressers and huge armoire.
Our room is about 12'x12' and here is all the furniture we have in there:
Large Armoire (from Meijer)
Smaller dresser for t-shirts, socks and jewelry (from Ikea)
Larger Dresser (from Ikea)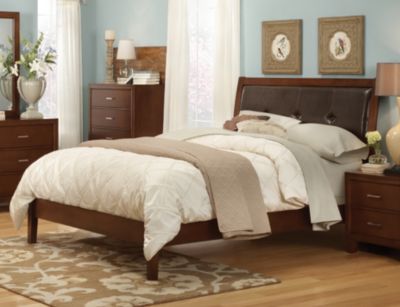 Bed Frame (from Art Van)
Do you notice anything similar about all of these pictures? Everything is SO DARK!!
After coming to this realization, I had the idea to paint the armoire white to see if it would make any difference. It is the largest item in the room (besides our bed, which is leather and can't be painted) so I figured it would make the biggest impact. And boy oh boy....does it ever make a difference! We purchased new bedding, changed the curtains and painted the armoire! It is like a whole new room! We have chosen our paint color for the walls and hope that when it is all said and done, this will be a room that I will finally enjoy spending time in.
Before and after pictures to follow once the room is complete.
Do you have a room in your house that just doesn't fit your style?