You wouldn't think that something as simple as table numbers could stress a bride out. Well, think again! Over the course of our engagement I have had so many ideas on what I could do for our table numbers. I was recently going through my "inspiration" folder and I couldn't believe how many pictures I had saved. At one point in the planning process did I really spend this much time looking at table numbers??
I apologize for not knowing the source of all these pictures. I saved them before I started blogging
It started out with the idea of taking pictures of our favorite places around town and then printing them with table numbers on them. It didn't take long for us to realize that our favorite places just aren't that great looking! When you take a photo of them they seem very "blahhh" and that's just not the look we were going for
Inspiration:
I then thought it would be a great idea to use our engagement pictures, but that idea fell flat when the weather wouldn't cooperate and our e-pics kept getting delayed. Oh, mother nature how you love to mess with me.
Inspiration: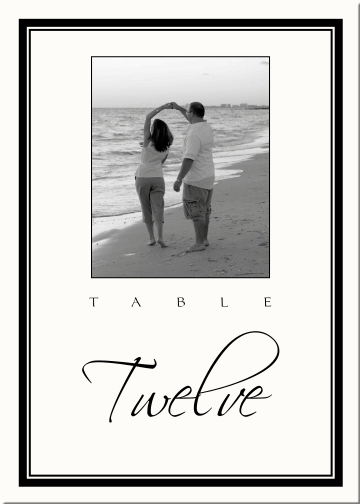 An idea that really stuck with me for quite some time was using luminary table numbers. I found them on
Etsy
but I just didn't want to commit to ordering, because I wasn't totally sold on whether this is what I wanted. (ahhh....I know myself so well)
Inspiration:
My most favorite idea was finding a way to incorporate our pets (2 cats and dog). I fell in love with the idea after seeing it
here
. I even went as far as buying the numbers. But if you know us and know our pets, this turned into an impossible task. We have a jack russell dog who is not calm enough to even sit still for one second to take a picture, let alone trying to add some numbers to the photo. He thought they were toys and it simply wasn't working. I was convinced if I got my cats while they were sleepy this would be simple....WRONG! I guess they call cats "curious" for a reason.
Inspiration:
So after 17 months of wedding planning I finally finished my table numbers. I simply used the wood numbers that I purchased when we tried using the pets and I painted them red! Done and Done!!!
I tied them to our dog run out in the back yard using fishing line and painted them using glossy red spray paint.
(Please don't look at the condition of our lawn/dirt....our backyard is so pathetic)
Was there anything in particular that you obsessed over? Maybe it was table numbers like me :)